Teeth Whitening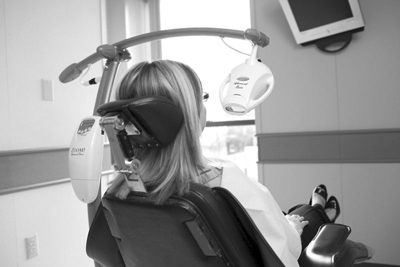 You've probably seen Zoom!® teeth-whitening featured on TV or in magazines.
It's so popular simply because it works so well.
At Silvaggio Prosthodontics we are proud to offer Zoom2!® for our patients. Zoom2!® is the latest version that's even faster, easier and more effective than the original – it can get teeth up to 12 shades whiter. In less than an hour your teeth will become significantly whiter. This procedure is perfect for anyone looking to achieve immediate results. With Zoom2!®, you leave the dental office with whiter teeth rather than spending days or weeks using bleaching trays or strips. It's fast and convenient, making it an ideal choice for anyone living a busy lifestyle.
There are many causes of tooth discoloration. Your lifestyle and the aging process can stain and darken your teeth. Many things we do on a regular basis can contribute to stained teeth, such as drinking coffee, tea, soda and red wine or smoking. In addition, during tooth formation, consumption of tetracycline, certain antibiotics, or excessive fluoride may also cause tooth discoloration. The good news is that many of you can have whiter teeth, and Zoom2!® may be the right whitening system for you.
Zoom2!® raises the bar to a new level of performance while delivering an average of eight shades, and sometimes as many as twelve shades, in less than an hour.
The new Zoom2!® system is:
Faster & Convenient – Achieve superior results in three 15-minute sessions. The new system reduces chair-time by 33% with no compromise in results.
More Effective & Long-lasting – The proprietary light activated Zoom2!® gel incorporates patented Amorphous Calcium Phosphate1 (ACP) technology to provide superior whitening results.
Easier – The new Precision Light Guide System ensures quick and consistent patient set-up for optimal whitening results, while the new locking casters and ergonomically designed structure make moving and postioning Zoom2!® a snap.
Lower Sensitivity – Reduced contact time, ACP chemistry, combined with the new Balancing Agent and Satin Finish, to ensure the lowest possible discomfort for patients. In fact, Zoom2!® patients experience 67% less significant sensitivity than those treated with the original Zoom!® System.
Visit the Zoom!® website at zoomnow.com to get more information iin their frequently asked questions section as well as watch a slideshow of the Zoom!® whitening process.
Call us today to schedule your Zoom2!® appointment: 717.393.0550
During your visit with Dr. Silvaggio, he'll let you know if Zoom2!® is appropriate for you and how and when it can fit in with your overall treatment.
Articles
Also, check out our article on teeth whitening (page 26), recently published in b magazine here.