From the Desk of Dr. Christian Silvaggio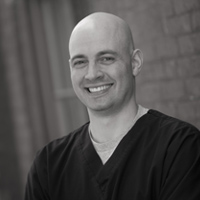 Dear Prospective Patient,
"I believe there is nothing more important to your self-esteem than beautiful, functional teeth. I chose Prosthodontics because it combined two of my interests – art and dentistry. I attended three years of additional training at The University of Texas Health Science Center because I wanted to become an expert in the advanced technologies available in order to provide the most complete care and achieve the best results possible for patients with complex dental needs.
Everyday I see people whose needs range anywhere from a brighter smile to replacing a tooth or a complete set of teeth. Regardless of your needs, my staff and I know how important it is to sit down and really listen to you, taking the time to evaluate your unique situation, answer your questions and address your concerns. Ultimately, our team wants you to feel confident in the care you receive and in the end results we create for you.
I have the honor of seeing my patients love their smiles. I know that being able to enjoy your favorite foods again and to smile without feeling insecure makes a big difference in the quality of your life. The words of thanks I get from my patients and their family members are incredibly meaningful to me. I am proud that my training and expertise make this possible. I look forward to meeting you to discuss your Prosthodontic needs soon."
Sincerely,
Christian Silvaggio, DMD