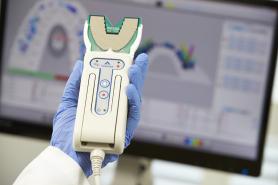 T-Scan® Digital Occlusal Analysis System: We use the T-Scan® system to evaluate the occlusion of our patients. The T-Scan® reveals the level & timing of force on individual teeth as well as the stability of occlusion.
The occlusion (or the 'bite') is the contact between teeth or the relationship between the upper & lower teeth when they meet. This occurs during chewing or at rest. Malocclusion is the misalignment of teeth & jaws. Malocclusion can cause a number of dental & health issues including: TMJ disorders, sensitive or fractured teeth, headaches and neck pain.
With T-Scan's® bite force data, we can pinpoint occlusal interferences and quickly remove them allowing us to treat patients with greater accuracy. The review of the T-Scan® data is a visual aid that helps patients better understand their occlusion and the treatments that may be necessary to balance their 'bite' forces.