Technology
In order to provide the highest quality care possible, Dr. Silvaggio continually researches and invests in the latest dental technology. From your very first appointment, you will benefit from our state-of-the-art approach to customized, individualized treatment planning. The technology detailed below helps Dr. Silvaggio quickly diagnose problems with more accuracy, which enables him to create customized treatment plans in the most effective and efficient way possible. Dr. Silvaggio believes in offering the highest quality of service for his patients and that is why he is committed to offering the best available products and procedures in the dental industry. It is important to him and his staff that you feel confident during every phase of your dental care, therefore please feel to contact us to learn more about how we can help you with your specific dental needs and concerns.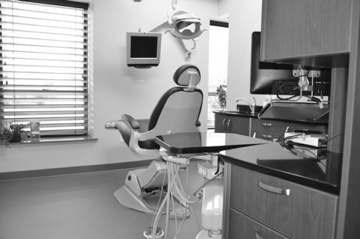 VELscope Vx® Exam-We include a VELscope Vx® exam in annual hygiene/recall visits for all of our adult patients 18 and older, and tobacco users of any age. We believe that by using VELscope Vx®, along with our standard oral cancer exam, we will improve our ability to identify, evaluate and monitor abnormal areas that are difficult to see under conventional lighting. The exam takes less than a minute and involves no pain or inconvenience. VELscope Vx® is an easy and painless examination that gives our practice the best chance to find any oral abnormalities you may have at the earliest possible stage. When premalignant lesions or early-stage oral cancer is found, treatment is simpler, less invasive and more that 90% successful.
If you would like to learn more about VELscope Vx® please visit their website at: www.velscope.com
T-Scan® Digital Occlusal Analysis System: We use the T-Scan® system to evaluate the occlusion of our patients. Occlusion is the contact between teeth or the relationship between the upper & lower teeth when they meet. This occurs during chewing or at rest. Malocclusion is the misalignment of teeth & jaws. Malocclusion can cause a number of dental & health issues including: TMJ disorders, sensitive or fractured teeth, headaches and neck pain.
Intra-Oral Camera: We have the ability to use our intra-oral camera to photograph existing dental needs and offer you a progression of photographs as your dental work progresses. An intra-oral camera is used in conjunction with our computer monitors located in every operatory. We can take a picture of the outside of your tooth and show you any problems you may have with your tooth or teeth, even if you are not currently feeling any pain. We can treat early warning signs of problem teeth before they become complex. In addition, it allows us to provide our patients with all of the necessary information they need to make informed decisions regarding their treatment plans. We don't just tell our patients what they need to be done, we also show them why they need it done.
Digital Radiography (Digital X-rays): Digital X-rays have been in use for seven years and allow us to see inside your tooth. We can take an X-ray that appears on a computer screen next to your dental chair we can then enlarge or colorize the tooth to enhance problem areas. This newer system is only used in about 5% of dental offices. Our patients benefit from these X-rays because the emit up to 90% less radiation, therefore they are safer than traditional X-rays. In addition, they are quicker to process so you don't have to wait as long to get your results. We can take six images of teeth for the same amount of radiation exposure as it takes to process one piece of conventional film.
Zoom2!® Advanced Teeth Whitening:
You've probably seen Zoom!® teeth-whitening featured on TV or in magazines.
It's so popular simply because it works so well.
Zoom2!® is the latest version that's even faster, easier and more effective than the original – it can get teeth up to 12 shades whiter.
SprintRay Pro 55 3D Digital Printer– An exceptional experience is always at the forefront of what we want to offer our patients. In 2022, we added the Pro 55 3D printer technology as a benefit because it is the most user-friendly, powerful, and reliable desktop 3D printer available in dentistry. This printer allows us to cut treatment times, provide personalized care, reduce costs and respond quickly to meet your needs. Now we can 3D print night-guards, temporary implant restorations, dentures, surgical guides and much more. Instead of waiting for 2-3 weeks of standard turnaround time for labs, we can print these products in a few hours. With digital printing, it is very easy to do modifications of design on our computer and then print another wax up, temporary crown or denture which significantly reduces the waiting time for our patients. In many cases, if something is lost or broken, we can replace it in an hour from its digital file rather than starting from scratch.
Trios® Digital Impression System–Before placing a restoration into your mouth, the first step is to take an impression of your teeth and bite, which allows Dr. Silvaggio the ability to customize a treatment plan so that your teeth will not only look great, but they will function perfectly. Rather than relying on physical models to do this, he can more efficiently scan your mouth with a small device to create a digital impression in just a few minutes. Compared to the old way, this approach is extremely fast, accurate, and more comfortable for you.
Guided Dental Implant Surgery– When it comes to replacing people's teeth with state-of-the-art dental implants, Dr. Silvaggio takes all the guesswork out of the process. Guided dental implant surgery uses digital scans and a CT scan of the jaw to help him find the perfect locations for your new teeth. It also enables him to then place the implants with pinpoint accuracy. For this procedure, Dr. Silvaggio partners with Conestoga Oral Surgeons and together, thanks to this cutting-edge technology, the success of your procedure is practically guaranteed from the moment you step into our office!
In-House Laboratory: Providing patients with quick & accurate denture repairs, relines and temporary restorations.
State-of-the-art Treatment Rooms and Chairs: Each room is equipped with Bose® audio headsets, CD players and flat-Screen televisions with cable TV for your comfort and pleasure during your time spent with us.
Complimentary Wi-Fi: For our patients and their family members who desire to "stay connected" while at our office we are pleased to offer complimentary Wi-Fi and use of our IPad 2.