Technology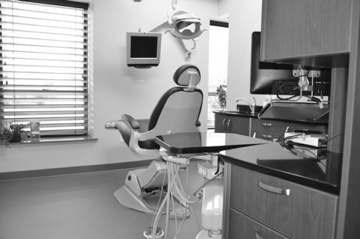 VELscope Vx® Exam: In our continuing efforts to provide the most advanced technology and highest standard of care to our patients, we are proud to include the VELscope Vx® Exam as part of all annual hygiene and recall visits. The VELscope Vx® exam takes 2 minutes and involves no pain or inconvenience.
Why do we include a VELscope Vx® Exam in all annual hygiene/recall visits? One person dies every hour from oral cancer in the United States – and the mortality has remained unchanged for more than 40 years. Late detection of oral cancer is the primary cause that both the incidence and mortality rates of oral cancer continue to increase. As with most other cancers, age is the primary risk factor for oral cancer. Though tobacco use is a major predisposing risk factor, 25% of oral cancer victims have no lifestyle risk factors. According to the American Cancer Society, more women in the United States will be diagnosed with oral cancer this year than will be diagnosed with cervical cancer.
Clinical studies have determined that using VELscope Vx® improves the ability to identify and evaluate suspicious areas at their earliest stages. Early detection of pre-cancerous tissue can minimize or eliminate the potentially disfiguring effects of oral cancer and possibly save your life. Proven screening technologies such as mammogram, Pap smear, PSA and colonoscopy offer the same type of early detection of cancer. VELscope Vx® is an easy and painless examination that gives our practice the best chance to find any oral abnormalities you may have at the earliest possible stage. When premalignant lesions or early stage oral cancer is found, treatment is simpler, less invasive and more that 90% successful.
When should you get a VELscope Vx® Exam? We include a VELscope Vx® exam in annual hygiene/recall visits for all of our adult patients age 18 and older and tobacco users of any age. We believe that by using VELscope Vx®, along with our standard oral cancer exam, we will improve our ability to identify, evaluate and monitor abnormal areas that are difficult to see under conventional lighting. If you would like to learn more about VELscope Vx® please visit their website at: www.velscope.com
T-Scan® Digital Occlusal Analysis System: We use the T-Scan® system to evaluate the occlusion of our patients. Occlusion is the contact between teeth or the relationship between the upper & lower teeth when they meet. This occurs during chewing or at rest. Malocclusion is the misalignment of teeth & jaws. Malocclusion can cause a number of dental & health issues including: TMJ disorders, sensitive or fractured teeth, headaches and neck pain.
Intra-Oral Camera: We have the ability to use our intra-oral camera to photograph existing dental needs and offer you a progression of photographs as your dental work progresses. An intra-oral camera is used in conjunction with our computer monitors located in every operatory. We can take a picture of the outside of your tooth and show you any problems you may have with your tooth or teeth, even if you are not currently feeling any pain. We can treat early warning signs of problem teeth before they become complex. In addition, it allows us to provide our patients with all of the necessary information they need to make informed decisions regarding their treatment plans. We don't just tell our patients what they need to be done, we also show them why they need it done.
Digital Radiography (Digital X-rays): Digital X-rays have been in use for seven years and allow us to see inside your tooth. We can take an X-ray that appears on a computer screen next to your dental chair we can then enlarge or colorize the tooth to enhance problem areas. This newer system is only used in about 5% of dental offices. Our patients benefit from these X-rays because the emit up to 90% less radiation, therefore they are safer than traditional X-rays. In addition, they are quicker to process so you don't have to wait as long to get your results. We can take six images of teeth for the same amount of radiation exposure as it takes to process one piece of conventional film.
Zoom2!® Advanced Teeth Whitening:
You've probably seen Zoom!® teeth-whitening featured on TV or in magazines.
It's so popular simply because it works so well.
Zoom2!® is the latest version that's even faster, easier and more effective than the original – it can get teeth up to 12 shades whiter.
In-House Laboratory: Providing patients with quick & accurate denture repairs, relines and temporary restorations.
State-of-the-art Treatment Rooms and Chairs: Each room is equipped with Bose® audio headsets, CD players and flat-Screen televisions with cable TV for your comfort and pleasure during your time spent with us.
Complimentary Wi-Fi: For our patients and their family members who desire to "stay connected" while at our office we are pleased to offer complimentary Wi-Fi and use of our IPad 2.